The Thursday Night Jazz Salon is presented each week at "Invention", the elegant, intimate supper club, located on the 3rd floor of the Los Angeles Athletic Club (LAAC).
Because the LAAC is a private club, if you are not an LAAC member, you will be considered a guest of member David Ross.
Space is limited, and reservations, made here, are required. Consider that your reservation is confirmed, as long as you make it before 5:00 PM the day of the concert. We will email you only if space is not available, in which case, your cover charge will be promptly refunded in full.
The cover charge for non-LAAC members is $20/person, paid when your reservation is made.
Covered parking, at 646 South Olive Street LA 90014, immediately adjacent to the club, is available, with validation, for $10.
Please email Dave@TheJazzSalon.com with any questions.
Singer Frieda Lee is the featured artist of the Thursday Night Jazz Salon (scroll down for more information).
Singer/pianist Betty Bryant will be back in December (scroll down for more information)!
Ray Charles Raelette, Val Geeson, will be singing on October 6 and November 10 (scroll down for more information)!
Singer, writer, pianist John Proulx is on hiatus until early 2023.
For 40 years, Chicago jazz legend, Frieda Lee, has been singing the Great American Songbook. She has played every major jazz venue in Chicago, plus large stages like Grant Park, and Navy Pier. She's paid tribute to such singers as Ella Fitzgerald, Sarah Vaughan and Billie Holiday. The Chicago Tribune calls her "one of this city's most beloved jazz vocalists."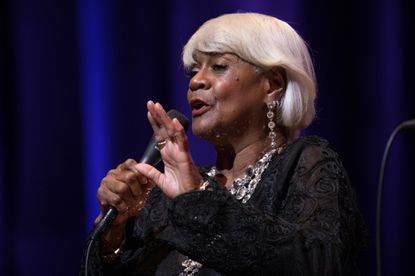 Legendary singer and pianist, Betty Bryant, will be back in December!
A native of Kansas City, Missouri, Betty Bryant is a revered pianist/singer who brings a solid piano technique, a light, swinging touch and a skilled vocal approach to her music. Whether she is playing the blues on "He May Be Your Man (But He Comes To See Me Sometime)", or delivering obscure cabaret gems like Mort Lindsey's humorous "Scratch", or romping through serious jazz compositions like Bud Powell's "Parisian Thoroughfare", Betty always connects with the material and with her audience.
Dubbed "Cool Miss B" by her fellow musicians, Betty's career started in her hometown of Kansas City, where she was mentored by the great Jay McShann. She moved to the west coast in 1955, where she immediately got an engagement at Beverly Hill's famed "Ye Little Club". This was the beginning of mostly solo appearances in Los Angeles. Her reputation grew, and she quickly became a popular attraction in the many little nightspots that used to dot the beach towns from Santa Monica to Laguna.
In 1987 "Betty Bryant Day" was declared in Kansas City, and she was awarded the keys to the city. A famous photograph of Betty with Jay McShann hangs in the lobby of the American Jazz Museum in Kansas City.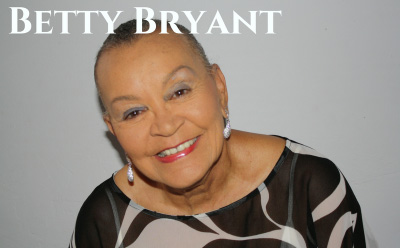 Ray Charles Raelette, Val Geeson, will be singing on October 6 and November 10! Val brings a big, beautiful voice, warmth and excitement to every performance!